Ancestry / Genealogy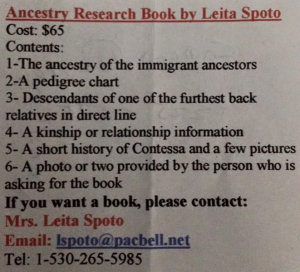 My overstanding is that Ms. Spoto has raised the price of her services to $75 since the above advertisement was published ( :
In one sweep Ms. Spoto bestowed my ancestry back to 1700, well worth it ( :
If she no longer offers pedigree charts, I personally would offer her extra money for it because it is much easier to visually work with, very convenient; just ask how much would make the pedigree chart worth her time <3 ( :
One can take advantage of the free trial on ancestry.com to screenshot all data one can find, and then canceled membership before being charged; this is one way to gather information.  On the other hand ancestry membership is nice to meet long lost relatives when they join the site ( :
Sal Serio is the curator of the Italian American Library on the second floor of the regional library in Metairie, Louisiana.
If you have a loved one interned in our Society Tomb & need vault information, provide the loved one's name, and we can talk about it.
Brought to you by:
Justin Lance Schiro, Married Vegan Monastic
Contessa Entellina Society Historian
Double Eagle Award Winner 2015